Amazing Antique Singer 15-31 industrial treadle sewing machine, accessories, c1904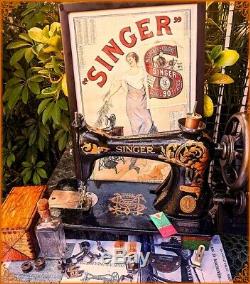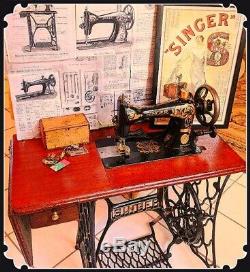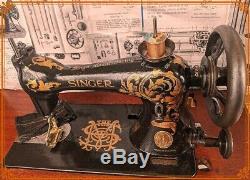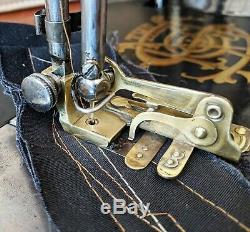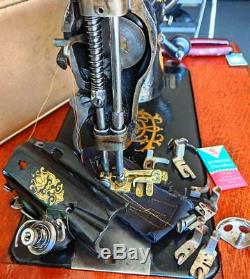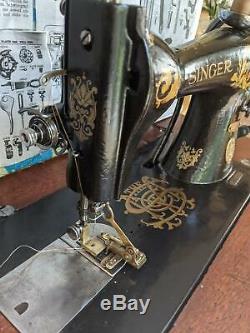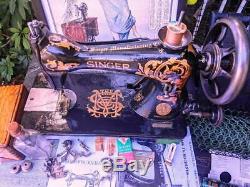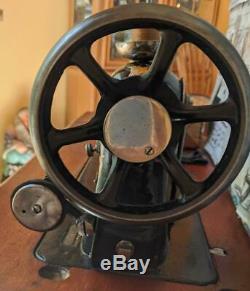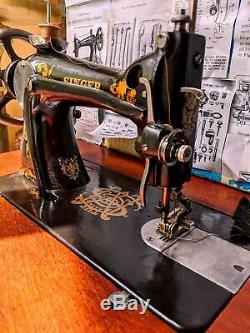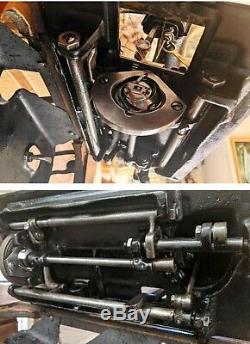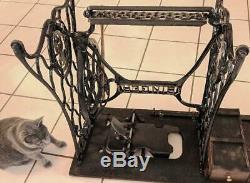 Singer Class 15-31 "Acanthus Leaves" Antique sewing machine, industrial version. Knee activated pressure foot lifting mechanism, Oscillating CB shuttle, Oak cabinet. Bronze knob, Cast iron treadle and a LOT of Extras!!
Serial # B377779, assembled on June 6 1904 at the old Singers plant located. At 1675 Notre Dame, near Place D'Armes.
The factory was in the commercial centre of the city in industrial buildings located behind the main office and showroom with no outside yard or storage space. Assembling continued at that Montreal factory until 1906, when a replacement factory was opened at a much larger site in Saint-Jean-sur-Richelieu, Quebec.
From the allocation of Singer serial numbers records, it appears that during the last few years it was produced about 30,000 machines a year of models 15,16 and 27. The Industrial/Family heavy duty sewing machine Class 15 has been introduced in 1879 and holds the honor to be the longest 141 years! Continuously manufacturing sewing machine in the history. In 1887 the model 15-11 replaced the original long beak shuttle 15-1 model with with a separate removable 1 oclock bobbin case. The class 15-11 bobbin case , race & hook system has been the standard design used by almost ALL sewing machine makers ever since.
This model also has a dubious distinction to be one of the most copied sewing machine. In 1970 I have seen myself the mass manufacturing of Class 15 PMZ at the former Singer Podolsk Mechanical Zavod (factory) in Russia. This plant has been built there by Singer SMC in 1902 with the intention to supply sewing machines to the entire Russian market and also The Balkan states, Turkey, Iran, Japan and China. Well, so little did they knew - after that infamous Russian Bolsheviks revolution Singer basically has lost it's huge factory there and after the WWII there were a lot of copies of this truly wonderful machine has been made in Japan and.
And even now they are still being produced in India, the Treadle and hand crank versions! If these facts are not a testimony of this machine model reliability... In US and Scotland Singer plants there has been made over 100 different official modifications of this marvel of engineering Class 15: from 15-1 to 15K191. About one half of them has been made as the industrial version. The only difference in between 15-31 Family and industrial version is the additional knee operated pressure foot mechanism.
Basically, it is the Industrial machine for family use. The VERY EARLY models had cast iron face plate like on this machine , then it was replaced by the plain polished steel face plate. It has all steel construction and the heavy duty vertically oscillating CB (Central Bobbin) shuttle hook. Race assembly still being utilized by high speed industrial sewing machines.
The vertical bobbin offers more direct path for bobbin thread to be drawn up and as the result the machine is by far better suited for heavier thread. The hinged pressure foot clearance is 3/8 in combination with large and heavy counterweight and mentioned above all steel construction allows to sew very easily heavy layers of denim, canvas, belts and numerous layers of light leather.
This model 15 is one of four the. Mostdesirable vintage Singers sewing machines : 1.
15 Another historical fact worth to mention: with the Class 15 Singer introduced a new design of needle: It is flat on one side of the shank - 15x1. This design became the standard needle used not just for most future Singer domestic machines, but also by almost by all other sewing machines manufacturers. The same needle design also known in modern needles classification system as "20/20". But the rest of decals has been hardly visible under the thick deposits of grime and oil.
So, I have very accurately and patiently wash numerous times this machine casting with Vegetable Oil Soap to reveal remaining decals. I had to replace the Central Singer Emblem on the bed and one Singer name up in front and on the top. I have also, added decals to front plate and sleeve. The mechanical restoration process was more difficult the machine was completely frozen :I could not turn the wheel. The lubricant being utilized at that time was the Whale oil , which has a tendency to solidify and become hard like a rock.
It required 8 days to remove all moving parts , soak them in the kerosene, clean, high speed polish and assemble everything together. You can see now on the pics provided that every single screw and every critical part is proudly shining like a brand new one. Now the hand wheel can be turned without any effort just with 2 fingers there is no frictions or any sort of obstruction. The conclusion: The wood portion of machine # 79 cabinet with treadle has been completely restored and serviced : all moving parts has been cleaned and oiled. The knee activated pressure foot lifting mechanism has been cleaned and serviced.
The steel oil drip plate with machines lock-n-place mechanism and sliding support bar for extension table has been cleaned and adjusted. Please check my photos attached to verify the machine's condition described. Machine sews very well and guaranteed to be fully functional.
I have made that hard for me decision to sell out my antique sewing machine collection ago prior of our permanent move to Florida - The G-ds Waiting Room. So far I have been fortunate and little-by-little could be able to rehome almost all of them to the new and appreciative owners. Now I have only 7 machines left over. But that would be a huge and heavy carton! I can offer the number of options (3) to package this machine.
It would depends on the new destination location. Completely take it apart : remove the machine from the table, treadle wheel and iron stand from the cabinet (4 screws) and to pack it together in one carton with a lot of impact absorption media. Please note that ever popular bubble wrap is NOT effective protection at all from the forces of impact being transferred to the fragile cast iron parts. To take apart very heavy and unique mechanism of treadle is absolutely necessary in order to provide adequate protection not only from mention above impacts but also from effect of very rapid movement within the carton with parts. Only HD closed cell foam can absorb and dissipate the forces and guarantee the safety of content. I have created the pictorial assembly instruction with step-by-step description of assembly process. The table without extension leaf but with knee lifting mechanism and drip pan is -32x17x 12''. The folded treadle is 29 x22" x14", head is very heavy and will fit with proper impact absorbing insulation into separate carton of 22x12x16. Or if the destination address would be within the states with the common borders with S. 1 Singer 15-31 sewing machine head with pressure foot lifting lever.
1 Oak cabinet with drawer and extension table with sliding support bar - 1 Cast. Iron legs , treadle wheel mechanism , treadle pedal with Pitman rod. 1 Antique Bronze Ruffler by Johnston Ruffler Co , Ottumwa IA , Patent 2672 issued Sept 24 1878 -The collector's item by itself! 3 Folder guide , Singer -The collectors item.
6 (six) Needles in Singer envelope. 4-Various operation pressure feet , Singer. 10 (ten) -Bobbins for model 15 Singer. 2 (two) -Bobbin cases , 1 o'clock finger, Singer. 2 (two) -Oscillating shuttle Singer hooks.
1 Extra Needle plate graduated , Singer. 1 Singer Oak Puzzle box for attachments , vintage. 1 Singer Oil bottle with cork.
1 Singer Model 15-31 Manual and adjustment Guide , copy. 1-Historical data on Singer 15, 40 pages -all downloaded from Smithsonian Institution Web-site and printed. I could send to you the electronic files.
Sewing machines have always been a part of my job. My background in mechanical engineering combined with some nostalgia, passion and plenty of time on my hands has made the great implication on my current activities Antique and vintage sewing machine restoration.
In order to retain the authenticity of original time-honored design, those fine details which once embellished the antique sewing machines and my own clear. The metal parts and treadle legs refinishing no stripping to remove the original finish, no rust preventative primer, no decals or clear coating to make it more appealing in a photo.
Here is a brief description of. Clean surface with Murphys oil soap. Chrome plated parts and apply a thin coat of a mixture of Boiled linseed oil & turpentine on the originally painted parts and re-assemble machine. Gear driven machines are being properly cleaned, greased and oiled, the timing is being checked , bobbin case or shuttle are being taken apart, cleaned and oiled for smooth thread draw, stitch adjusted to be equal on both sides. If appropriate for that particular model/class, machine is being tested to sew at slow and fast speeds and in reverse on numerous layers of denim to assure it is sewing with ease.
For machines with motor /light /foot pedal control the following steps are being taken to assure that machine is electrically safe to operate: the motor, pedal, light wires, are inspected for electrical safety and replaced (if necessary) from the coils to the connector. The foot pedals are being cleaned and adjusted for smooth speed control. The machines I offer for sale are electrically safe and fully guaranteed to sew very well.
Please feel free to ask any questions. The following information you should know.
I must be contacted within 24 hours of receipt of item to initiate a return. Only after the issue has been verified I will accept a return.
If you do not do this we cannot guarantee receipt of the return and will not issue any credit. I will issue a credit after I have actually received the item and verified the issue.
Please contact me with detailed address information for accurate quotes. I will pack all items with a great care with utilization of proper force of impact absorbing materials. As the rule , I will place the sewing machines head into the double-box and will use bubble wrap or rags inside the first box. If it would be a treadle or cabinet sewing machine , I will double-box machines head separately.
I will disassemble cabinet / irons legs (if appropriate), then I will write the instruction with photo attachment of step-by-step assembly process to avoid any possible confusion during assembly. Or if it would be required, I could even crate the cabinet and will place and secure machine head in the double carton underneath. I put a lot of effort , time and quality materials into cabinetry restoration process and it would be extremely upsetting to me if the finished piece would be broken during transportation.
Tracking information is also available directly on E-Bay page. Please note that the tracking status provided on E-Bay's website is not updated regularly. It is my responsibility and the matter of honor to make sure that my listing is thorough, honest, and accurate.
Please feel free to contact me with any inquiries. I will try to respond within 24 hours or less.
I encourage and will enjoy all communication with other members. Feedback system is critical to our E-bay community. User Feedback speaks to the reputation and trustworthiness of both E-Bay's buyers and sellers. I take it very seriously and hope you will do the same. The honest communication is the most critical factor.
I hope everything would be in accordance with you expectation. I will try my best to provide accurate item descriptions and high quality photos for all my listings. The item "Amazing Antique Singer 15-31 industrial treadle sewing machine, accessories, c1904" is in sale since Monday, July 27, 2020. This item is in the category "Antiques\Sewing (Pre-1930)\Sewing Machines". The seller is "dmr1826" and is located in Boca Raton, Florida. This item can be shipped worldwide.
Maker: Singer Manufacturing Company
Original/Reproduction: Original