Amazing Antique Singer 66K-1 Lotus sewing machine, refurbished, value added, 1904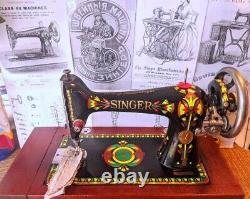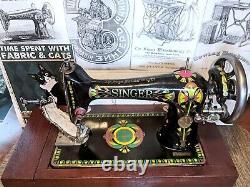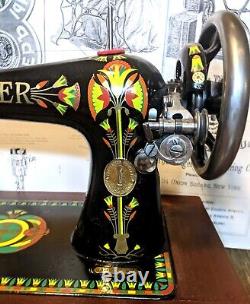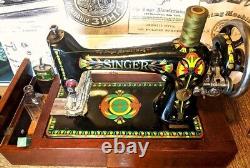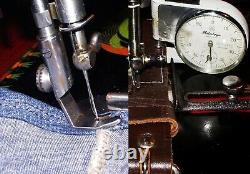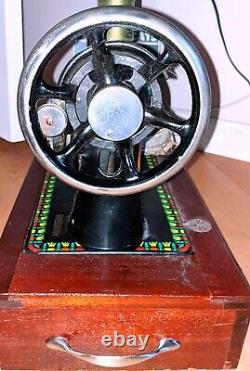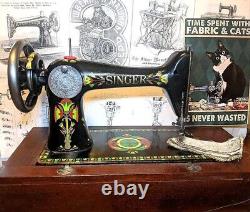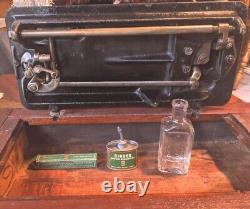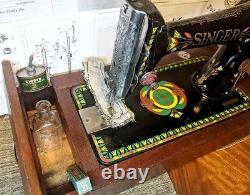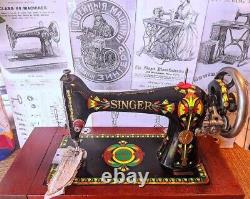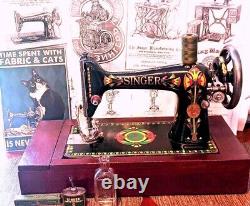 The perfectly engineered stunning show piece! In 1882 Singer Manufacturing Company established a small Canadian factory to the south-west of the city centre at 2710 Notre Dame St.
Joseph Street near the corner with D'Allemand Avenue. The factory was in a terrace of industrial buildings with no outside yard or storage space. Sewing machine factory in Saint-Jean-sur-Richelieu, Quebec, Canada. The factory has been established in Jan 1904 to produce sewing machine for Canada and for import to Philippines and to Belgian Congo (at that time). Lassic sewing machine, the Singer Lotus flower decoration boasts one of the most exquisitely elegant and elaborate designs ever seen on the sewing machines in vivid colors of red, green, gold, yellow and brown.
The Model 66K ability to sew very heavy fabrics, high arm clearance, drop in bobbin, simplicity in treading, quite yet powerful performance makes this machine a truly one of the most desirable collectors items. As per very well known expert Mr.. The 66 arrive after nearly half of century of improvements and developments. It ran from 1900 till 1939 with almost no changes.
The singer 66 was the first sewing machines that produced a near perfect stitch. When sewing well the 66 will out-sew nearly any modern machine through a huge variety of fabrics from linen to lace and a horse blankets.
It is simply near perfect engineering but this came at the price. The 66 was one of the most expensive sewing machine on the market costing several months wages. The 1900 advertisement said about Singer "66" Model - ". Built like a watch at the largest and best organized sewing machine factory in the world ". Yes, indeed, this Singer 66K Lotus is rightfully making the claim to be a "Patek Philippe" of sewing machines from either mechanical, aesthetic or reliability prospective. Surviving Serial number records indicate that British production of the 66K ran from 1904 until 1939. It is important to know that the very first Singer 66K's made at Kilbowie plant in Scotland wore "Lotus" decals and as all Early 66K machines used back clamping presser feet and attachments, rather than the more common side clamping used on other models and also on later 66 machines. Of this machine's decal is not only. Because of the bright, iridescent colors and intricate art design patterns that has a high degree of brightness and precision - It also contains an extremely high level of optimum well balanced design. This Grand Dame-of-the-sewing-machines just in a few months will be celebrating it's 119 th Birthday, but she is still Highly desirable and collectible due to superb mechanical conditions! Hardly ever The LOTUS in great cosmetic condition is being offered for sale! This one was not an exemption -the decal was in terrible condition and I had no choice but to install a new one. I personally would like to relate to this Lotus machine in the "Cognac terms" - it is most definitely equal to XO Grande Champagne. So, what possibly could be better - "Patek Philippe" from reliability and engineering stand points and Grande Champagne from the amount of pleasure one would experience just to look at this machine! It comes with rather unique mahogany lower base with covered drawer for part located on the Right side (yes, Right side) of the machine! The machine has been taken apart, restored, refurbished and meticulously serviced.
All internal parts has been meticulously cleaned, lubricated with grease and oil. Most of the moving machine parts has been taken apart, cleaned, polished, assembled back, adjusted, oiled. Then machine has been tested to sew both thin and multiple layers of heavy fabrics.
Machine now sews very well and guaranteed to be fully functional. Just look again on the pics # and # - it sews very heavy leather belt and I have tried 6 folds of denim jeans. The needle bar, pressure bar and thread take up mechanisms has been taken apart, clean and polished - if would not be the limit of 12 pictures total you would be able to see how those mechanisms proudly shines displaying it's parts. I have completely disassembled even the thread winding mechanism, cleaned and polished every single screw and even all springs and washers. I simply could not do the restoration any other way - It would be such a disservice to this stunningly beautiful and rare machine if I would be taking any short cuts and worry about all those long hours being spent on restoration.
Because anything less than this type of approach would be simply unacceptable for making this rare beauty be proud of it's distinguished pedigree. It seems like I can watch this thread winding mechanism in action forever - each turn of the central gear is almost hypnotically sending a message - relax and keep enjoying the winding process.. 1 1904 Singer 66 Sewing Machine with Lotus petal pattern -1 mahogany lower base with 2 brass handles. 1 Presser foot, back clamped. 3 Thumb screws, vintage Singer. 1 Glass bottle for oil with embossed Singer Emblem - THE COLLECTORs item by itself -excellent condition. 1 Singer tin oil can with Singer Emblem - THE COLLECTORs item by itself -excellent condition. 1 Singer grease in the tube in original excellent condition. 1 Tin plate with image of sewing machine and cat -Collectors item.
1 Manual book for Singer 66. I will pack this machine. From the base to prevent any damage to the unique base due to the forces of impact during transportation. I will pack machine head with a lot of various impact absorption materials tin attempt to minimize any possibility of damage. Drive the complete machine together with all listed above to arranged destination place if it would be no more than 100 miles from Boca Raton, FL where I could help you to transfer all these into your vehicle or set it up for use.
This item is in the category "Antiques\Sewing (Pre-1930)\Sewing Machines". The seller is "dmr1826" and is located in this country: US. This item can be shipped worldwide.
Original/Reproduction: Antique Original
Maker: Singer Manufacturing