Astounding Antique Singer model 66 Red Eye sewing machine, back clamp atchm, 1915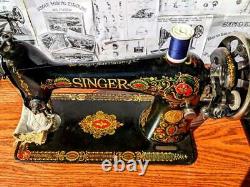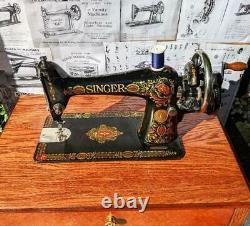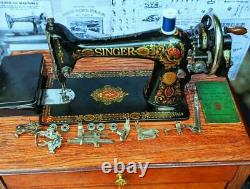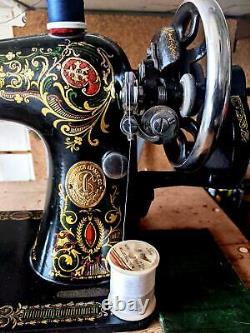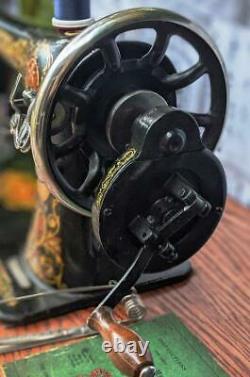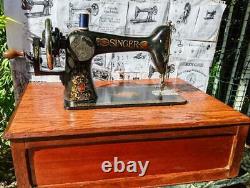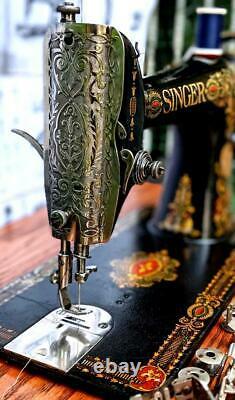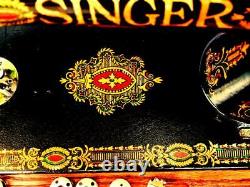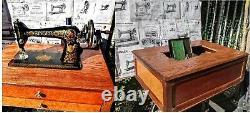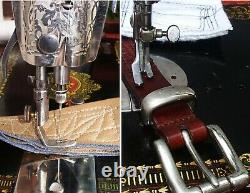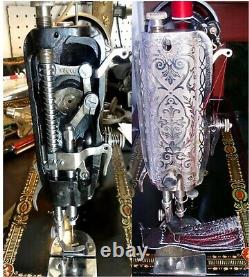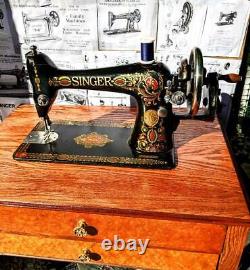 The perfectly engineered stunning show piece! Do you want a stress-free shopping during this difficult for all of us time?
Or even yourself with this. Lassic Singer Red Eye which boasts swirly designs in vivid colors of red, green and gold. Perfectly suitable for this Holidays occasion present.. And crank inside of beautifully refinished case. Singer's Elizabethport, New Jersey plant. The elaborate and colorful design, ability to sew heavy fabrics, high arm clearance, drop-in bobbin, simplicity in threading, quite yet powerful performance makes this machine a truly one of the most desirable collectors items. As per very well known expert Mr. The 66 arrive after nearly half of century of improvements and developments. It ran from 1900 till 1939 with almost no changes.
The Singer 66 was the first sewing machine that produced a near perfect stitch. When sewing well the 66 will out-sew nearly any modern machine through a huge variety of fabrics from linen to lace and a horse blankets. It is simply near perfect engineering but this came at the price. The 66 was one of the most expensive sewing machine on the market costing several months wages.
The 1900 advertisement said about Singer 66 Model built like a watch at the largest and best organized sewing machine factory in the world. Yes, indeed, this Singer 66 Red Eye is rightfully making the claim to be at least a Patek Philippe of sewing machines from either mechanical, aesthetic or reliability prospective.
This model became fondly known as The RedEye or Red Head for obvious reasons - The machine's decoration decals does look like it has exotic eyes. The beautiful decoration made it sought after by enthusiasts and collectors. It is my opinion that this beautifully decorated machine looks like a.
Peacock tail which contains spectacular beauty because of the bright, iridescent colors and intricate eye patterns that has a high degree of brightness and precision. It contains an extremely high level of optimum design.
According to a theory of sexual selection, the peacock's tail has gradually evolved because the peahens selects only beautiful males for mating. However, there is no satisfactory explanation of how the sexual selection cycle can start or why the peahens should prefer a beautiful features. This 105 years old beauty-of-the-sewing-machines is Highly collectible due to the very fine cosmetic conditions. I personally would like to relate to it in the Cognac terms - it is most definitely equal to XO Grande Champagne. So, what possibly could be better?
"Patek Philippe" from reliability and engineering stand points and Grande Champagne XO Cognac from the amount of pleasure one would experience just to look at this machine! The paint and decals are amazingly crisp and retained 80% of original decorations intact (relatively to age) with some noticeable at a first glance blemishes on the bed and the back area sides. And in addition to all those vibrant colors and the unparallel ability to sew - you have a complete package of beautiful extremely well functioning machine, equally beautiful antique stand and the set of very.
Are now back clamp pressure bar attachments. ALL original attachments so there is no need for. Conversion of the rare back-clampers into more common side-clamping presser bar. The machine has been taken apart , checked and serviced. ALL internal moving parts has been taken apart and removed -the needle bar , pressure bar , thread take up, tension adjustment and sewing mechanisms has been taken apart , clean and polished - if would not be the limit of 12 pictures total you would be able to see how those mechanisms proudly shines displaying it's well functioning parts. I have also completely disassembled even the thread winding mechanism, cleaned and polished every single screw and even all springs and washers. I simply could not do the restoration any other way - It would be such a disservice to this stunningly beautiful and rare machine if I would be taking any shortcuts and worry about all those long hours being spent on restoration. Because anything less than this type of approach would be simply unacceptable for making this Grand Dame of sewing machines to be proud of it's distinguished pedigree. Then machine has been tested to sew both thin and multiple layers of heavy fabrics by using slow and high speed. Machine now sews very well and guaranteed to be fully functional. Just look again on the pics #10 and #11- it sews 6 layers of denim or the thick leather belt. It seems like I can watch this thread winding mechanism in action forever - each turn of the central gear is almost. Hypnotically sending a message - relax and keep enjoying the winding process..
1 1915 Singer 66 Sewing Machine with RED EYE pattern - 1 Hand crank , "aftermarket". 1 Antique base stand with 2 sliding drawers , 2 bronze pulls and 4 felt foot.
7(seven) bobbins , Singer # 45785 -1 Presser foot Singer, back clamp. 1 Foot narrow hemmer raw edge , back clamp. 1 Ruffler attachment , Vintage Singer , for gathering and plaiting.
1 Cording foot, Vintage Singer, Back clamp. 1 Hemmer , adjustable , vintage Singer , Back clamp. 1 Tucking attachment , vintage Singer, Back clamp. 1 Quilting plate , Vintage Singer # 121389 Extremely rare!
3 Thumb screws , vintage Singer. 5 Needles , sizes 11-14in Vintage Singer Envelope.
1 Tin box for attachments , vintage. 2 Various Manual books for Singer 66.
1 Copies of Singer 66 advertisement literature from Smithsonian collections. Machine, wood base , crank , Tin box with attachments , double outer carton and impact absorbing materials.
Sewing machines have always been a part of my job. My background in mechanical engineering combined with some nostalgia, passion and plenty of time on my hands has made the great implication on my current activities Antique and vintage sewing machine restoration. In order to retain the authenticity of original time-honored design, those fine details which once embellished the antique sewing machines and my own clear.
The metal parts and treadle legs refinishing no stripping to remove the original finish, no rust preventative primer, no decals or clear coating to make it more appealing in a photo. Here is a brief description of.
Clean surface with Murphys oil soap. Chrome plated parts and apply a thin coat of a mixture of Boiled linseed oil & turpentine on the originally painted parts and re-assemble machine. Gear driven machines are being properly cleaned, greased and oiled, the timing is being checked , bobbin case or shuttle are being taken apart, cleaned and oiled for smooth thread draw, stitch adjusted to be equal on both sides. If appropriate for that particular model/class, machine is being tested to sew at slow and fast speeds and in reverse on numerous layers of denim to assure it is sewing with ease.
For machines with motor /light /foot pedal control the following steps are being taken to assure that machine is electrically safe to operate: the motor, pedal, light wires, are inspected for electrical safety and replaced (if necessary) from the coils to the connector. The foot pedals are being cleaned and adjusted for smooth speed control. The machines I offer for sale are electrically safe and fully guaranteed to sew very well. Please feel free to ask any questions.
The following information you should know. I must be contacted within 24 hours of receipt of item to initiate a return. Only after the issue has been verified I will accept a return.
If you do not do this we cannot guarantee receipt of the return and will not issue any credit. I will issue a credit after I have actually received the item and verified the issue. Please contact me with detailed address information for accurate quotes.
I will pack all items with a great care with utilization of proper force of impact absorbing materials. As the rule , I will place the sewing machines head into the double-box and will use bubble wrap or rags inside the first box.
If it would be a treadle or cabinet sewing machine , I will double-box machines head separately. I will disassemble cabinet / irons legs (if appropriate), then I will write the instruction with photo attachment of step-by-step assembly process to avoid any possible confusion during assembly.
Or if it would be required, I could even crate the cabinet and will place and secure machine head in the double carton underneath. I put a lot of effort , time and quality materials into cabinetry restoration process and it would be extremely upsetting to me if the finished piece would be broken during transportation.
Tracking information is also available directly on E-Bay page. Please note that the tracking status provided on E-Bay's website is not updated regularly. It is my responsibility and the matter of honor to make sure that my listing is thorough, honest, and accurate. Please feel free to contact me with any inquiries.
I will try to respond within 24 hours or less. I encourage and will enjoy all communication with other members. Feedback system is critical to our E-bay community. User Feedback speaks to the reputation and trustworthiness of both E-Bay's buyers and sellers. I take it very seriously and hope you will do the same.
The honest communication is the most critical factor. I hope everything would be in accordance with you expectation. I will try my best to provide accurate item descriptions and high quality photos for all my listings.
The item "Astounding Antique Singer model 66 Red Eye sewing machine, back clamp atchm, 1915" is in sale since Sunday, January 10, 2021. This item is in the category "Antiques\Sewing (Pre-1930)\Sewing Machines". The seller is "dmr1826" and is located in Boca Raton, Florida. This item can be shipped worldwide.
Maker: Singer Sewing Machine Manufacturing Company
Original/Reproduction: Original
Time Period Manufactured: Pre-1930